Jamaica has not been on my radar of places to travel to. Ironically I have traveled there twice this year for business,
most recently last week. It's much like Hawai'i with the sunshine, beaches and foliage. I was cooped up in a conference room most of the time but did manage to have a bit of fun while at the Sandals Whitehouse Resort. Which by the way, is a great all-inclusive property on beautiful beach. I have found that Jamaica is more than the resorts and activities. It's the people that make it special. They are warm, friendly, fun and have a smile that just brightens your day. Here I am with our our housekeeper Keisha who we just loved!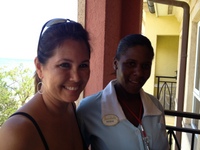 Jamaica is now on my bucket list and I hope to go back and explore more of this beautiful island and it's people.My husband had LOTS of free time while I was working so I made him write this week's article about his Reading Road Trip to a local school.
Featured Article
A Wonderful School Visit in Jamaica
by Rex Takushi
After arriving at the Sandals Whitehouse Resort and enjoying all that it has to offer – pools, ocean activities, walks on the beach and fine dining to name a few. I signed up to visit a local school that was adopted by the Sandals Foundation. The school, Culloden Early Childhood Institute is about a 20 minute drive from the resort. When we arrived we were introduced to the headmistress and surrounded by the school kids, it was a great welcoming. The 2 other resort guests and myself each sat down with 3 or 4 children and read them a book. My book happened to be "Kim's Trip to Hawaii".
The kids then took turns reading to us. I started to take some pictures and the children really got excited. They wanted to take pictures of each other so I showed them how to use the camera so that they could be photographers. They also had great fun learning to give a "shaka".
We then toured the classrooms. They are typical of school rooms everywhere, alphabets around the chalkboard, posters on the walls and small tables and chairs. The couple from the resort and myself were touched by our visit to Culloden. We decided to each make a donation to have a brick plaque with our names placed on the school walls. My hope is that one day soon, all the walls of the school will be covered with those bricks. This experience was definitely the highlight of the trip!