Oceania Cruises niche is luxury cruising with midsize ships which allows them to visit smaller ports that the big ships cannot. I have been on a few cruises sailing on Royal Caribbean, Holland America and few other lines. However when boarding Oceania's MS Riveira it did not feel like I was walking on to a ship but more like entering into an elegant hotel. The decor was beautiful with the rich fabrics, soft lighting, beautiful artwork and comfortable furnishings. It's stylish without the stuffiness. The Riviera is a new ship, christened in late 2012 with a guest capacity of 1250 and staff
of 800.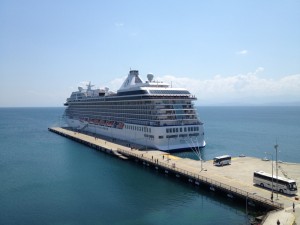 We were in a balcony stateroom where once again upon walking in it felt like entering a hotel room and not a typical stateroom. The staterooms feature the Prestige Tranquility Beds and are very comfy. The refrigerated mini-bar is stocked with FREE bottled water and unlimited soft drinks which are replenished daily. The marble bathroom was a nice size which included a full size tub AND a separate shower.
There were lots of activities to indulge in. The Canyon Ranch SpaClub which includes a fitness center, sauna and steam room, relaxtion room and ceramic loungers, all free of charge. Spa treatments are not included. Also available is the Bon Appetit Culinary Center with fully equipped workstations. For a charge, you can actually prepare dishes with the guidance of a Master chef. I took the Italian cooking class.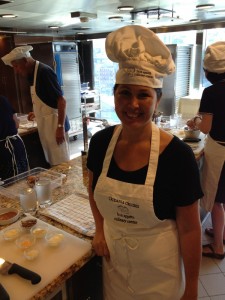 We learned some tips and made a couple of tasty dishes and dessert. Thoroughly enjoyed it ! There's also an Artist's Loft enrichment center, the library, casino, world renowned lecturers, shows and live music to keep you entertained throughout the cruise.
The food. Oceania claims to have the "finest cuisine at sea". I found the food to be very good and speaking with other
guests they agreed as well. Dining is open seating, which I much prefer to the traditional early or late seating on
most cruise lines. There are 4 specialty restaurants where reservations are required with no additional surcharge.
The Asian inspired Red Ginger was the the most popular with it's Miso Sea Bass.The Waves Grill had one of the BEST
burgers I've ever had. Needless to say, I picked up a few pounds on this cruise. Attire for dining is country club
casual, which I loved. No need to get all dressed up if you don't want to.
The service on the ship from our room stewards, waiters and general staff was excellent. We enjoyed the shore excursions and the guides were knowledgeable, with one outstanding guide in Romania. I didn't care for Sochi, Russia (sight on the 2014 Winter Olympics), not much there. If I had to say anything bad, the internet was extremely slow. I tried to do some work but it was sooo slow I gave up. Hmmm, maybe that wasn't such a bad thing after all. The shows were just so-so but we were so tired from our busy days it didn't really matter. We had to skip our port in Mykonos because the water was too rough to tender in. That was a little disappointing but better to be safe than sorry.
Good to know. While the cruise fare does not include alcohol, beverage packages are available. Unlike most cruise lines. Oceania allows you to bring alcohol (beer, wine, spirits) on board to enjoy in the privacy of your cabin. If you find a wine or beer (like my husband) in port that you want to try, no problem. There is a corkage fee if you want to have the wine served at your table.
In talking with other guests, most everyone had cruised with Oceania at least 3 or 4 times if not more. Over 60% of our sailing were repeat Oceania guests which I thought was pretty amazing given such a different itinerary. Here we are with our new friends, who by the way, decided while we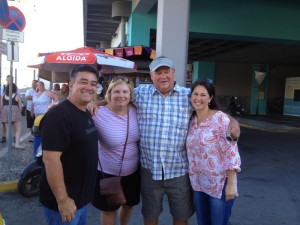 were sailing, to stay on board and continue on the next sailing! I am grateful for the opportunity to have sailed with Oceania. I highly recommend and look forward to sailing again with them in the future!