Tour of Egypt
I just recently returned from a 12-night tour of Egypt led by my friends Gary and his wife World Peace artist Andrea Smith. They have a love affair with Egypt and have taken many groups throughout the years. If I were ever going to Egypt, it would definitely be with Gary and Andrea.
Upon arrival in Cairo, we were met by our tour guide Akram who assisted us with our visa, baggage, and transfer to the Mena House. We were in awe of our view of the Great Pyramid from our balcony.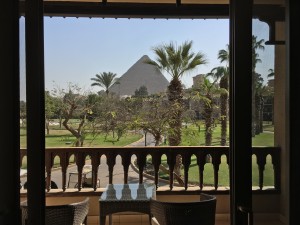 A Spiritual Adventure
This was not a typical tour of Egypt, it was a spiritual adventure. In addition to the usual sights, the Pyramids, the Sphinx, and ALL those temples we would have short meditations led by our Egyptologist Emil. He was our teacher and some say he is a Pharaoh reincarnated. I believe it, he has so much knowledge and passion. He's also a rascal. Every time Emil said "we're gonna do something illegal" we knew we were in for something special. Here's our group learning at the Temple of Isis.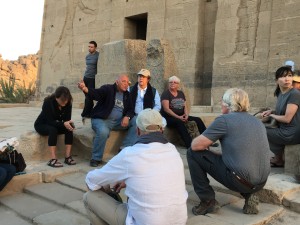 Chicken skin moments
Our group of 15 experienced many chicken skin moments. At the Great Pyramid, we had a private visit where inside the King's chamber we took turns lying down inside a sarcophagus for a meditation with the lights off!
Next, we took a short walk for a private visit to the paws of the Sphinx. Most tour groups have to view the Sphinx from up above. How's this for an
up-close and personal view?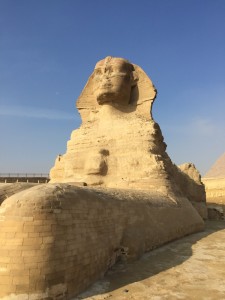 Upper Egypt
After we left Cairo we flew to the Upper Egypt town of Aswan where we boarded the private boat the Dahabeya Afandina for 7 nights. The boat was more like a home and the group became a family hanging out on the lanai or upon the sundeck after a day of touring. We had all our meals together on one long dining table. The food was simple but fresh and tasty. The chef made a different wonderful soup every night, yum!
Sailing down the Nile felt like going back in time, so quiet and peaceful passing villages that have been around for hundreds of years. Each day we stopped at a different city with a visit to a temple sometimes two. The highlight was Luxor where we spent 2 days visiting the temples of Karnak, Luxor, and the Valley of the Queens and Kings. We had great fun on a night tour of the city, traveling on a horse-drawn (vegetable) cart. As we passed through the streets people laughed, smiled, and welcomed us. At one point we got stuck in traffic on a train track with an oncoming train!
The Red Sea
We then traveled by bus through the desert to the resort town of Hurghada located on the Red Sea. The accommodations at the luxury resort Oberoi Sahl Hasheesh was the perfect place to decompress and absorb everything that we had experienced. Tourism is way down in Egypt. Our group and a handful of others were the only guests. We literally had the whole place to ourselves.
Returning to Cairo, our accommodations for the next 2 nights were at the very lovely Four Seasons. Our last day was spent at the Cairo museum, a visit to the market for some last-minute shopping, and a special performance by an all-female visually impaired orchestra. The performance was a gift to our group from the president of the Quest Travel Mohamed Nazmy. His company organized this amazing adventure and we had the honor of traveling with him on the Nile.
Is Egypt safe?
I thought so. I didn't feel uncomfortable or unsafe anywhere. Well, maybe crossing the street in Cairo. THAT was an experience. There is security in tourist areas as there is everywhere else in the world these days. The Egyptian people are warm, friendly (they love Americans) and always greet you with a smile and a hello. I think that was what I loved most about the trip, the people.
Best trip ever!
If you want to travel to Egypt, I highly recommend it. It turned out to be our best trip EVER! I'm planning on taking a group in 2018. Gary and Andrea will be doing another tour in 2017. If you are interested or would like more information send me an email at kathy@captivatingjourneys.com
Want to see more pictures of my trip? Click below for a short video slide show.
Want more information on traveling to Egypt? Call us at 808-244-1414 or send an email to info@captivatingjourneys.com