An unexpected trip was a new adventure in Guatemala
A business meeting sent me on a new adventure in Guatemala. It wasn't on my bucket list of destinations to visit. In fact, it wasn't even on my radar.  
I was pleasantly surprised by how much I enjoyed Guatemala. As my plane was preparing to land in Guatemala, I instantly knew that I would like it. It looked beautiful as we flew over the mountainous countryside.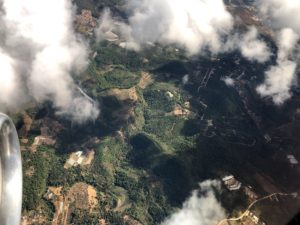 Land of Eternal Springs
Travel + Leisure magazine just named Guatemala one of the 50 best places to travel to in 2019. I would have to agree. It's known as the Land of Eternal Springs and is a destination that can be visited at any time of year. There are, basically, two seasons – the dry season from May to October and the rainy season from November to April.
La Antigua
My business seminar was located in La Antigua. A little more than an hour's drive from the airport in Guatemala City. Antigua, a colonial city that dates back to the 16th century, is now a UNESCO Heritage Site. It was once the political, economic, and religious heart of Central America. An interesting fact, Central America used to be one country. A series of earthquakes destroyed the city in 1773 and the capital was moved to Guatemala City.
At an altitude of 5,049 feet, Antigua's backdrop is surrounded by three volcanoes – Agua, Fuego, and Acatenango. Fuego, the only active one, is one of Central America's most active volcanoes. It's far enough from Antigua that you don't have to be concerned about the eruptions.
Antigua is small a city with the majority of the sites within nine square blocks. There are lots of monuments (ruins) which are now used for wedding and private event venues. I found them to be the perfect subjects for my photos. The streets are cobblestones and very uneven so you need to really pay attention while walking.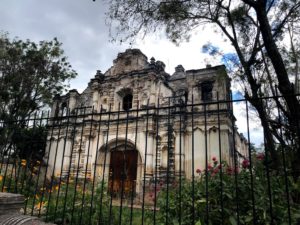 Take a peek 
The streets of La Antigua, Guatemala are deceiving. Take a peek behind the doors and you will find beautiful courtyards with fountains, boutique hotels, restaurants, and shops.

A foodie destination
Buen provecho! Guatemala is a great destination for foodies or if you just like to eat, like me. The prices are very reasonable. For great traditional Guatemalan food, I suggest a visit to La Fonda de Calle Real. The Plato de Chile Relleno de Res was sooo good! We had the pleasure of dining with the owner and her daughter (who runs another great family restaurant). Mercedes is a local celebrity herself and loves to tell the story of when President Clinton unexpectedly came to dine there.

Porta Hotel Antigua
There are plenty of accommodations options in Antigua and the pricing is very reasonable. I loved my homey hotel the Porta Hotel Antigua. The grounds reminded me of Maui, with many of the same types of plants.

More to see in Guatemala
Other main points of interest in Guatemala that I hope to visit when I return someday ~
Lake Atitlan
 Considered to be one of the most beautiful lakes in the world. It's surrounded by picturesque Mayan villages.
Tikal National Park
 Located in the northern part of the country, about a 45 -minute flight from Guatemala City. Guatemala is known as the true heart of the Mayan world and has the greatest number of archaeological sites in the region.
My one regret about visiting Guatemala. I wish I had stayed longer.
If you'd like help in planning a vacation to Guatemala or any other destination, please give us a call at 808-244-1414 | 800-344-9086 or schedule your complimentary "get-acquainted" session using our convenient online scheduler.