Planning my Portugal adventure
My Portugal adventure took over a year in the planning. It started out as a vacation with one other couple and turned into a fun-loving group! Escorting groups is not my thing. I plan vacations for clients and send them on their way. After this trip, that might change….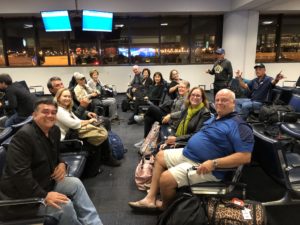 My Why
During this trip, I discovered my "Why". It's always a good feeling to hear how much a client enjoyed their vacation when they have returned. On this trip, I experienced firsthand the excitement, wonder, and awes of creating a memorable journey. I can't tell you how many times along the way someone from the group told me "thank you" for putting together such a great trip. It finally dawned on me after 30 years in the travel business that this is why I do what I do.
Viking Cruises
This was my third Viking River cruise. It was my first time on their new ship. This "baby" ship is similar to the Longships but smaller due to the size of the Duoro river. The ship and cabins were nice. The food was very good. The excursions were also very good.
The Viking Osfrid Crew
The crew of the Viking Osfrid was EXCELLENT! Starting from the Captain on down. The entire crew worked as a team. You never felt the hierarchy of management and staff. I believe it was because of the leadership of the Captain. The day we boarded he was helping his staff load passenger baggage!
The Duoro River
Having been on a few other rivers in Europe my only comment would be that there is a little more time on buses than I would have liked. This is due to the geography of the Duoro valley. Although you dock in little towns, there's not much there so we bused to visit quaint villages and wineries. That being said, I think the Duoro is the prettiest river that I have traveled on.
Here's a short video of our trip. A special thank you to fellow traveler and friend, Alan Cordeiro who provided the soundtrack. This is a song that he sang for us (and the rest of the guests) during the cruise.
If you'd like to find out more about Viking Cruises or the Douro River contact us at 808-244-1414 or info@captivatingjourneys.com